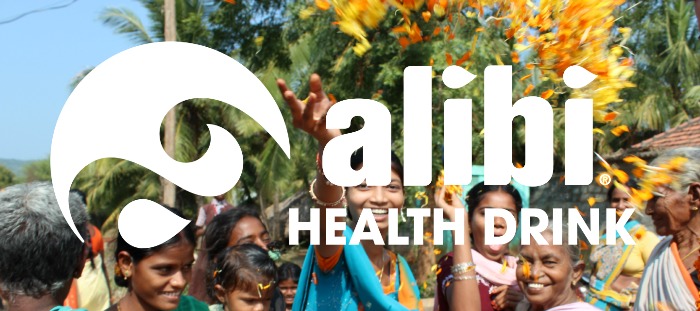 Donor of the Month – Alibi
The lovely guys at Alibi Health Drink are big supporters of drop4drop and to date have given over 3000 people clean water with big plans in the pipeline to give even more. We spoke to Alibi's Olly (Managing Director) and Alice (Marketing Manager) to find out how our partnership is helping them and so helping others!
"As a business we feel it is of the up most importance to give something back to the developing world and to people less fortunate than ourselves, and have a hand in easing the World Water Crisis. Clean water is something that many of us take for granted. Drop4drop provide us with a means to do this and we have now been working with them for 3 years. We find drop4drop easy to work with and open to new ideas – the team are down to earth and flexible in ways of working – and we've got some really exciting projects in the pipeline for the coming year."
"Supporting drop4drop for us is based on a very simple mechanism which makes it easy for us to work together – we don't consider working with drop4drop a hindrance in any way! We're a small, independent brand so it's great that we can afford to support a charity like this – as our support is tailored to the size of our company."
"Supporting drop4drop is not only great for the charity but our customers too. We like to think that Alibi customers have a conscience about their own health as well as a conscience about the health and well-being of others. Each can of Alibi creates 500L of clean water – so it is great to let our customers know that their specific purchase is helping someone in the developing world. Discussing our partnership in all of our communications raises awareness of this great cause and our involvement to all of our customers. We're proud of the wells that we produce and it is a great moment when you are able to share a picture of one on Social Media – and show our customers how their purchase has helped!"
"As a business, we are very keen on supporting charities. We regularly sponsor small sporting activities and we've got on board with some interesting projects- from a trip to Mongolia in an ambulance to a Pedalo journey around the Scottish coast! We're also working with some non-profit festivals this summer.  As the company grows we hope to be able to give more back, and our relationship with drop4drop is an example of this. In turn drop4drop are a great charity that we would defiantly recommend to other businesses. Their task – tackling the fact that 768 million people don't have access to clean water – is huge and something we should all address."
See Alibi's clean water projects here & remember to pick up a can of Alibi Health Drink when you're thirsty, every can now gives 500 litres of clean drinking water to communities in the developing world!
drop4drop are always looking to partner with new businesses. If you are interested in creating a corporate partnership with us get in touch here.