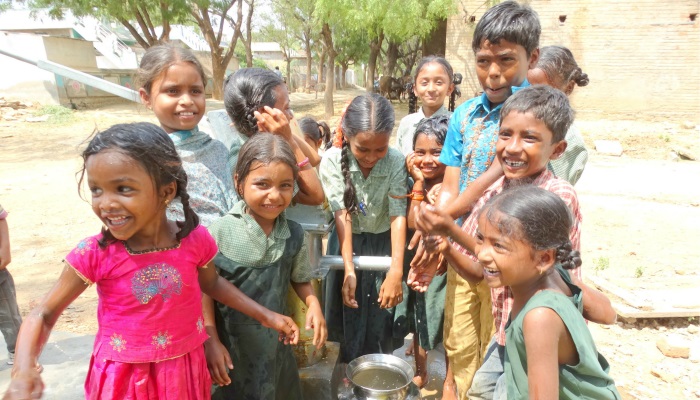 Tamil Nadu, India
Here at DROP4DROP our aim is to provide communities around the world with access to a safe and reliable water source. Our projects across India have involved the building of bore wells in densely populated parts of Andhra Pradesh and also the construction of large water tanks, providing the infrastructure to supply water to dispersed villages throughout an extensive geographical region.
We've recently established new partners in Tamil Nadu and we're currently working on a number of clean water projects in the region. All of our projects are in areas that will have the most social impact, enabling as many people as possible to reap the benefits of having a clean water source in their local village.
So why Tamil Nadu? Well, the region has experienced a substantially below average amount of rainfall from October to December last year; with only 44% of the usual rainfall occurring during this period. Because of this, water shortages are now critically affecting people throughout the region. Tamil Nadu's water reserves were recently sitting at a worrying 81% less than its normal 10 year average, with real consequences for the people living there. Tragically the water shortages have led to the deaths of elderly farmers and rural dwellers who lacked access to sufficient clean drinking water. This dire situation sparked protests at government buildings, with protesters demanding immediate action to improve the water crisis.
Vast parts of India experience a seasonal monsoon. In the North, this takes place between June and September and is fundamental to sustaining farming and water security for the southern regions like Tamil Nadu. However, due to the significant depletion in rainfall across the whole in India, water supply to Tamil Nadu is heading into an acute water crisis.
In response to the lack of rainfall, the government have introduced water cuts. In Chennai, the region's capital, the main water supplier has halved the amount of water it dispenses after its reservoirs have reportedly run dry. It is for these reasons that DROP4DROP wants to take action and provide as many people as possible with a resolution to the dangerous water shortages they are facing.
To find out more about our past projects in India and the kind of work we are currently undertaking in Tamil Nadu, then take a look at our projects and consider donating to play your part in alleviating the water crisis in the Tamil Nadu.