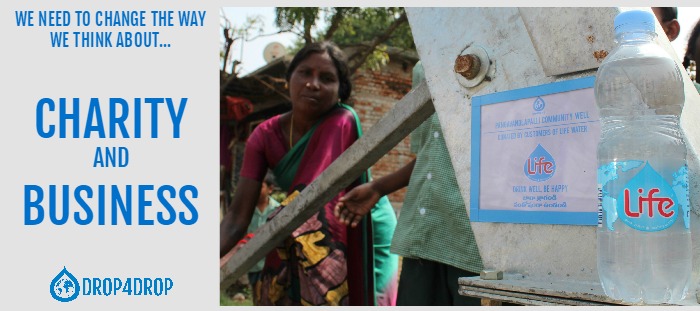 The role of business within charity.
Involvement of the private sector with charities has been often described under the term corporate social responsibility or CSR in which companies contribute positively to the wider community or environment. We believe that private sector has an important role to play in creating sustainable and accountable development. Businesses have huge potential to make a real impact on world issues and in times of public spending cuts, the private sphere can provide essential support to charities in their work. We need to change the way we think about business and charity as polar opposites, instead they can work hand in hand. It is possible to harness the capabilities of the private sector to benefit those less fortunate in society.
In the context of the global water crisis, in which currently 748 million people do not have access to clean water, business has a key role in reducing water consumption and wastage. This was discussed as a main issue at Stockholm's World Water Week Conference in September. Water and energy are intersecting resources as the collection and use of water requires a large amount of energy and the transmission of energy requires similarly large amounts of water. Many businesses in water and energy intensive sectors can also work to alleviate the water crisis by supporting charities in providing water for those without access to safe water.
At drop4drop, our partnerships with companies such as Life Water, Small Batch Coffee Company, Chi Coconut Water and Alibi Health Drink have provided clean drinking water to many communities in need. Each company pledges a donation for every drink sold and thereby brings clean safe water to a community. These businesses then receive updates, GPS locations and a dedicated plaque on the well that they have funded. We want to send a massive thank you to all the amazing businesses that have enabled us to work towards our common goal of clean water for all. 
"As a business we feel it is of the utmost importance to give something back to the developing world and to people less fortunate than ourselves… and drop4drop provide us with a means to do this."  – Alibi Health Drink
Corporate Social Responsibility shouldn't be relegated to the large multinational corporations and smaller companies can tailor their contribution to their capabilities. The size of our partnerships are relative to the size of company so we can accommodate  companies; whether large or small. We are always looking for businesses to create partnerships with and improve the lives of more people. To inquire about creating a partnership with us get in touch by email on info@drop4drop.org or give us a call a on 08456345030.