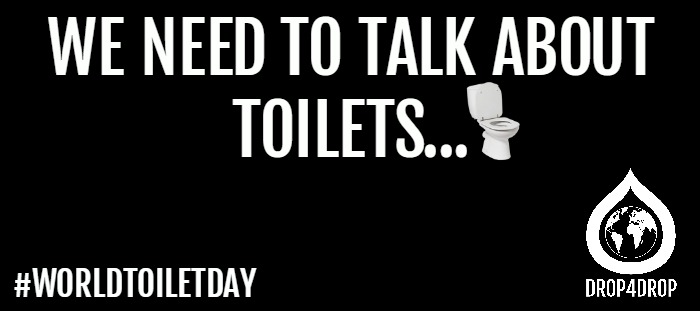 We need to talk about toilets…
Today 2.6 billion people do not have access to adequate sanitation and 1 billion people practice open defecation. So why aren't we talking about toilets more? The World Toilet Organisation, UN Water and many others are hoping to change this and create discussion on the benefits of proper sanitation. This year on the 19th of November we celebrated World Toilet Day to remind ourselves that we are among those who have access to everyday safe sanitation and that many people cannot enjoy this basic right.
Access to safe sanitation has some staggering health benefits. Sanitation and clean water are effective preventative measures for the reduction of waterborne illnesses such as diarrhea which is responsible for more deaths a year than malaria and aids combined. This lessens the burden on local health services which frees them to treat other illnesses and saves lives from preventable diseases.
Alongside the health implications, open defecation holds many risks to the safety of women and girls around the world and it is by no means a minor issue. Globally, 526 million women practice open defecation meaning that they have to travel to fields, bushes or ditches often at night in which to find some privacy. This 'privacy' in turn makes them vulnerable to harassment or sexual assault. In many communities without access to adequate sanitation, girls miss school during menstruation which hinders their prospects of employment. Women and girls can be seen to be disproportionately affected by the lack of safe sanitation. Therefore, access to toilets furthers gender equality and opportunities for women and girls. This was recognized by this year's World Toilet Day which was themed on the basis of "equality and dignity" and highlights the risk that women are put in when there is a lack of safe toilets.
Improved sanitation makes economic sense too as the World Banks estimates that lack of access to adequate sanitation creates economic losses annually of $260 billion US Dollars. The World Health Organisation estimated economic returns on sanitation are at $5.5 dollars for every $1. Prime Minister of India, Narendra Modi highlighted this importance as he urged people to build "toilets over temples". Sanitation has an essential role in sustainable development and we cannot afford not to act.
Proper forms of sanitation and clean drinking water are two ways that are proven to reduce disease, increase the safety of women and change lives. However, there still remains a taboo about talking about defecation. Improving access to toilets alone is not enough, there needs to be change in attitudes and the taboo over sanitation issues. Knowledge about the risks of open defecation and hygiene training are crucial to sustainable improvements.
A toilet is not just a toilet, it means improved health, safety and education, and that really is something to talk about.
Link for infographics= http://www.worldbank.org/en/news/feature/2013/08/30/whats-a-toilet-worth-infographic