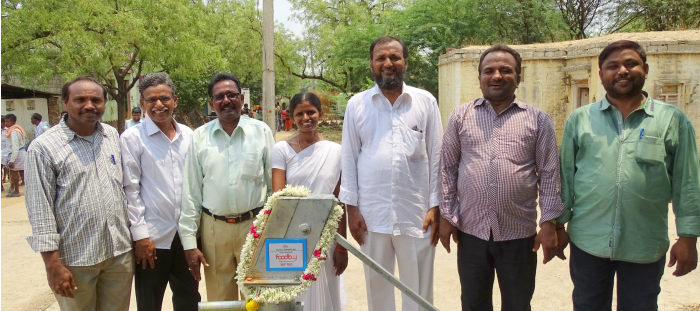 Meet The SPREAWS Team!
Sri K.Pitchi Reddy Educational and Welfare Society (SPREAWS) is a small NGO founded in 1994 by a group of men and women who wanted to improve the lives of disadvantaged people throughout Andhra Pradesh. SPREAWS has been working for the empowerment of marginalized people across the district, and has been helping vulnerable communities to obtain the basic human needs of food, water and clothing. The organisation has implemented over 200 projects throughout Andhra Pradesh providing clean drinking water to over 200,000 people.
In 2013 drop4drop and SPREAWS began what was to be the start of a very successful partnership. Since then drop4drop and SPREAWS have been working together to try and reach communities that still lack access to clean water and safe sanitation facilities. Andhra Pradesh has been a real focus for drop4drop as it is a drought prone region heavily affected by the water crisis – industrial growth and urbanization means that this issue is only increasing in severity. Women and children in Andhra Pradesh were often held responsible for collecting water and often had to walk miles every day in order to reach a water source.  When safe clean water is available within communities, people are able to spend more time in work and education, contributing to the economic and social development of the country.
Watch this space for more successful drop4drop and SPREAWS clean water projects!