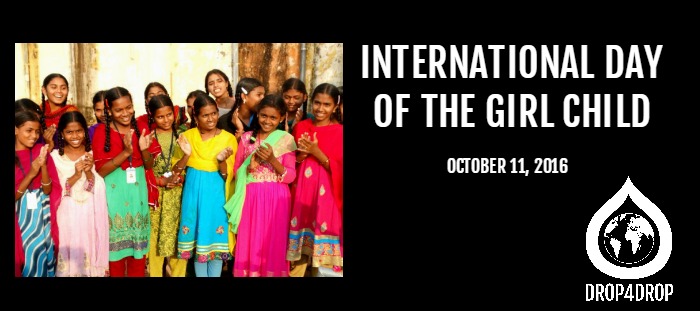 International Day of the Girl Child
International Day of the Girl Child is an important observation held to increase awareness of gender inequality faced by girls worldwide.  The vast spectrum of inequality faced by girls all over the world is an issue that remains prominent in modern society. The inequalities faced today includes areas such as right to education, legal, medical and family rights. The International Day of the Girl Child is also a celebration of the successful emergence of girls and young women as a driving force in development policy and campaign research.
There are currently 1.1 billion girls in the world today.  However, their dreams and potential are often thwarted by discrimination, violence and lack of equal opportunities. This is further exacerbated by the glaring gaps in data and knowledge about the specific needs and challenges that girls face (UN women 2016).
Drop4Drop believes that access to clean water transforms lives, creates opportunities and lays the foundations for a brighter future. In each community we encourage women to take part in the  installation and maintenance process so as to ensure each member of the community has fair access and input towards their water project. We  strive to ensure that women are included in our water teams, so that the views and voices of individuals can be heard.
The creation of each project collectively saves women and children from walking 200 million miles a day to collect dirty and unsafe water. By dramatically cutting the time it takes to collect water, young women and children can focus their attention on education, and claiming back the 443 million school days that are lost each year due to water related illnesses (WHO/UNICEF).
We recognize that by implementing clean water project, we have the opportunity to encourage the communities in which we work to change the way that gender is viewed in our global society. You can find out more about our projects at www.drop4drop.org/projects