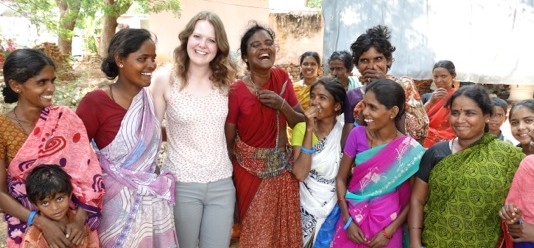 India Trip Round Up by Charlotte
Having just returned from a successful and eye opening trip to India visiting our latest round of 70 projects I thought a quick review of what we got up to was in order!
This trip was not only my first with drop4drop but my first to India. I was excited to see the projects I had helped to bring to fruition and intrigued as to what to expect from the country as a whole. My first impression HOT! We had arrived in the height of summer where temperatures can reach 46 degrees but it wasn't all bad as it was mango season!
We spent the first couple of days training our team in the use of our new water testing equipment, the DelAgua kit. Water testing is something we have always done but this kit gives us complete control of our tests. The portable nature of it means we can now test water in the field straight from the wells reducing the room for error & providing us with results quickly. Training complete we left the testing in the capable hands of scientist Krishna. The next topic to address, and one that was high on our agenda, was hygiene and sanitation. This topic has recently been brought into the limelight due to a number of shocking attacks on women in India. The lack of sanitation facilities within communities mean that women are forced to venture out of their village to go to the toilet making them extremely vulnerable to attacks. In fact almost half of India's population lack access to these facilities. We already offer hygiene awareness sessions at communities but are looking to improve upon what we offer. We spent an afternoon with our Indian team discussing the logistics of a new soap and sanitation program to come into effect in our next round of projects.
The next couple of days were spent visiting our newly completed projects. I was overwhelmed by the warm response and gratitude we received community after community. We heard countless stories from before the well of people having to walk up to 5 hours a day to collect sufficient water for their families. Constant power cuts and storms mean many of the taps people walk to don't even work when they get there. Having these wells in the heart of their communities really is improving quality of life by both saving time and reducing incidents of disease. I heard it first hand from Mrs Lakshisevi of the Nayanivaripalli community who told me previously she was walking up to 5 hours every day to collect all the water she needed for her families daily needs. Now she uses this time to work in the fields nearby earning a wage in addition to her husbands.
We are often asked, "why do you work in India? They have loads of money." To some degree I agree. The government should do more and have recently pledged to do so. But as it stands at the moment there are thousands of people in the country living in dire poverty dying every year from water and sanitation issues and this shouldn't be ignored by NGOs. For every community we visited with a newly installed well we saw many surrounding villages in desperate need. We witness communities queuing at taps and spoke to one village who had been waiting 2 days for their tap to come back on after a particularly bad storm. Providing access to water is the first step in overcoming poverty. It can transform lives by creating time which in turn enables opportunities and a chance at a brighter future. I have seen this first hand in India but there is still more to do and drop4drop will continue to work in the country while the need is still there.