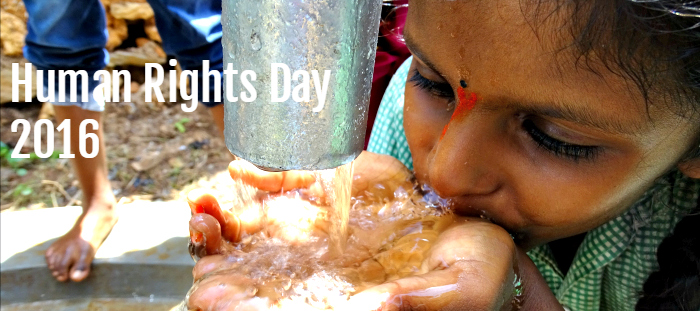 Human Rights Day 2016
Human rights should always be respected by everyone, everywhere and everyday. All human beings have the right to feel safe and be treated fairly. However, the disrespect of human rights continues to be widespread in all parts of the world.  Living in countries where human rights are protected means that people are free to make choices about their own lives and can participate in the country's development. Without these fundamental values, violence and conflicts within societies can increase.
Human rights day is celebrated annually on the 10th of December and encourages people to take a stand for someone's rights. Basic human values are inherent to everyone and the responsibility to protect them is essential. DROP4DROP believes that safe drinking water and sanitation are basic human rights as well. 663 million people in the world do not have access to safe water and 1.5 million children die every year due to water related diseases. Clean drinking water is scarce and millions of people across the world spend hours everyday searching for it. The water crisis has affected gender equality which is in the heart of human rights. Women across the globe have to walk miles everyday to provide themselves with water and have limited time for work or education. We at drop4drop provide people with new opportunities, improved health, and most importantly, access to a basic human right with our clean water projects.
To learn more about the clean water projects drop4drop carries out and how we are raising awareness of the importance of human rights, please see the rest of our website or find us on Facebook, Instagram and Twitter.