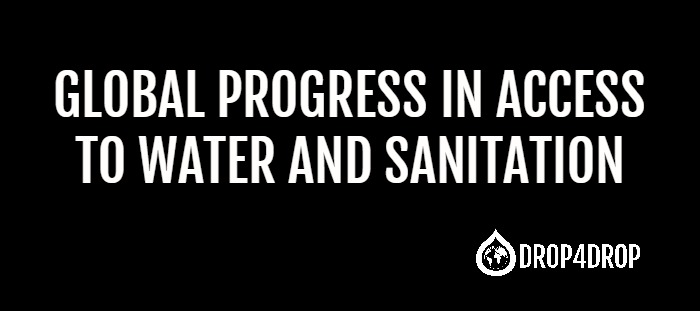 Global Progress in Access to Water and Sanitation
In the last sixteen years the worlds population has seen a remarkable increase in access to clean safe drinking water. In 1990 76% of the worlds population had access to an improved drinking source – in just 15 years this figure increased to 91% and is still rising today. The figure represents 2.6 billion more people who have gained access to a source of clean safe drinking water. Today only three countries – Angola, Equatorial Guinea and Papua New Guinea – have water coverage of less than 50%. This is down from 23 countries with less than 50% provision in 1990. The progress that has been made, however, has not been equally matched across the globe. India, where we carry out much of our work, has seen an increase from from 70% improved water cover in 1990 to 94% in 2016. In Mozambique, however, in the same time-span water coverage has only increased from 35% to 51%. Whilst this overall increase in access to clean water is a cause for celebration, at drop4drop we understand clean water as a basic human right and so there is significantly more progress to make.
The steps which have been made in provision of water, however, have not been matched by progress in improved sanitation facilities. Whilst the Millennium development target for water provision was met five years ahead of schedule, the target for improved sanitation was missed by 700 million people. Improved sanitation specifically refers to access to toilet facilities which hygienically separate human excrement from human contact. 32% of the global population now lack access to improved sanitation – 9 percentage points below the millennium development goal target.
The importance of improved sanitation can often be underestimated. The UN, for example, has warned that lack of global progress on sanitation is having a 'staggering' effect on the health, safety and education of 2.5 billion people. Open defecation can lead to contamination of drinking water sources and the spread of potentially fatal water-borne diseases such as cholera and diarrhea. Lack of improved sanitation services also negatively impacts gender equality. When schools do not have access to improved sanitation parents are often reluctant to send their girls for fear of their safety whilst defecating outside.  Without access to adequately private toilet facilities women are also often discouraged from defecating during daylight and so the need to travel outside after dark  puts women at increased vulnerability  to assault. Also by impacting access to education, poor sanitation has additional negative impacts on economic prosperity.
So whilst progress is being made in the provision of clean safe drinking water, there still remains 2.5 billion people in need of adequate access to toilet facilities. Providing these people with access to improved sanitation will have positive impacts on health, gender equality, economic prosperity and countless other issues.