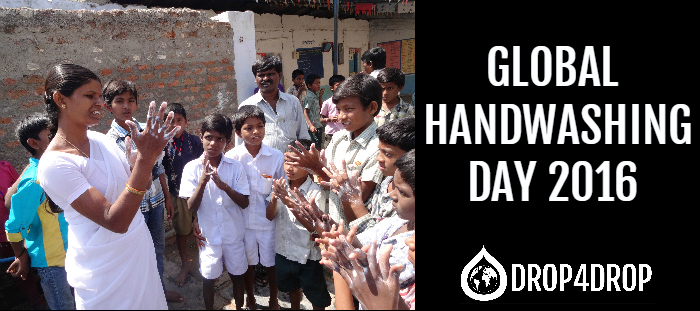 GLOBAL HANDWASHING DAY 2016
15th October 2016 is a very important day for us at #drop4drop as it's Global Handwashing Day! It's a day dedicated to raising awareness of the importance of good handwashing practices, aiming to ensure that communities around the world 'Make Handwashing a Habit' – this year's #GlobalHandwashingDay theme.
Ensuring individuals as well as entire communities make handwashing a habit is hugely important for health around the globe. Centres for Disease Control and Prevention state that 'unsafe drinking water, inadequate availability of water for hygiene, and lack of access to sanitation together contribute to about 88% of deaths from diarrhoeal diseases'.
The practice of washing hands at critical moments such as before eating or after the toilet can prevent diseases such as diarrhea and malaria from being transferred. When a whole community regularly practices handwashing it can prevent and stop disease in its tracks. Improved water sources reduce diarrhea morbidity by 21%; improved sanitation reduces diarrhea morbidity by 37.5%; and the simple act of washing hands at critical times can reduce the number of diarrhea cases by as much as 35%.
Deaths from preventable diseases such as diarrhea among children under 5 have decreased by over 50% – from over 1.2 million to half a million – according to current UNICEF data. However, many more children could be saved from these diseases with a solution as simple as regular handwashing with soap at critical times.
This year's #GlobalHandwashingDay theme, Make Handwashing a Habit, emphasises the importance of handwashing as a habitual behavior for long-term sustainability to permanently stop the spread of diseases through unclean hands. This is why when we complete a project at Drop4Drop we supply soap and provide local communities with educational sessions on the importance of sanitation and hygiene.
To learn more about the clean water projects #drop4drop carries out and how we are raising awareness of the importance and benefits of handwashing, check out the rest of our website or find us on Facebook, Instagram and Twitter.