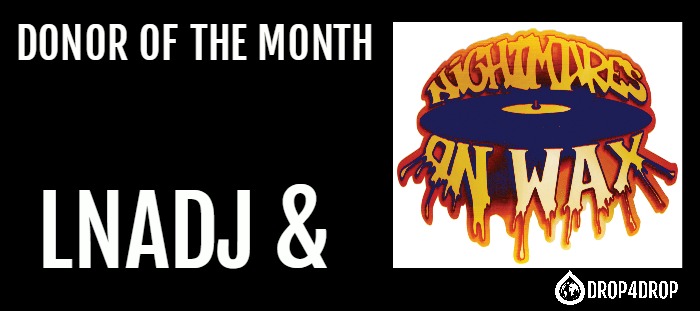 Donor of the month – LNADJ & Nightmares on Wax
This months 'donor of the month' are LNADJ. LNADJ or Last Night a DJ Saved My Life Foundation provide a platform for the dance music industry to make a positive impact in communities around the world. We have been working with LNADJ and supporting DJs and bands for over 2 years and have together given over 3000 people clean drinking water, see all projects here.
This year LNADJ have been working with Nightmares on Wax raising money through there 2014 international tour to enable clean drinking water for the Dappepalli community in Andhra Pradesh India. The water project was recently completed and this is what the band had to say about giving an entire community clean drinking water;
Rather than just getting up on stage, having a great time, which we always have anyway, we are spreading a positive message. Knowing we have the ability to make a real change by just doing what we do takes it to a whole new level, and this what we're doing is only the beginning! We all feel great doing something that has a positive outcome, helping people that aren't as fortunate as us. Its a no brainer really why not give something back at the same time as doing something we have always done. The ball has started rolling now, how can we you go forward without doing this?! 
When we all saw the pictures it really hit home these people have benefited from the last tour and from this one too. We saw the faces of the people we've helped give clean water to. When I saw their faces I felt like crying I felt that emotional! The first thing I thought apart from welling up was we had to tell my mum. Not tell her that we had toured around America doing loads of gigs but how we had raised awareness to the fans of Nightmares and Wax and raised the money to build a well. I mean we're taking that message onto the road. It's the fans that have given this community clean water, do you know what I am saying? It's a big thank you to the fans. We're only a little bit of this we're only raising the awareness and their responding all through the power and energy of music! – Nightmares On Wax
See the full details on LNADJ & Nightmares on Wax water project here.