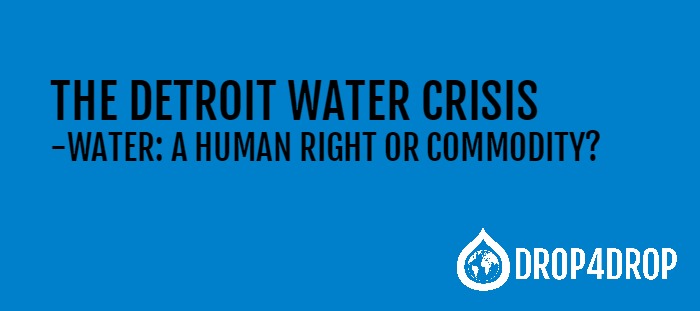 The Detroit Water Crisis
In what has been a pivotal case for human water rights, the Detroit Water and Sewerage Department are continuing to shut off water for those who have not paid their bills for two months. This is despite reports from the UN that the shut off is in violation of basic human rights. The shut off leaves many households without means to clean water to cook, clean, bathe and drink. While some argue that water bills unpaid for are justified to be cut off, simply like gas or electric, critics claim that access to water is an essential right and some even regard the situation in Detroit as a humanitarian crisis.
Detroit faces high levels of unemployment and 38 percent of residents are living at or below the poverty line. Residents face high water costs as there is a shrinking population for which the water infrastructure has not changed to match the population change. UN Special Rapporteurs, Catarina de Albuquerque and Leilani Farha argue that the shutoff harms "the most vulnerable and poorest" in society. During a three day visit to the city in October, the UN Special Rapporteurs heard accounts of local residents who lived without running water in their homes. In a press release, Albuquerque recounted "testimonies from poor, African-American residents of Detroit who were forced to make impossible choices – to pay the water bill or to pay their rent." The shutoffs were taken as the government aims to work its way out of its bankruptcy which was the largest case in US history. These actions have left 27, 000 houses living without running water and more are sure to follow. In a city which faces widespread socio-economic problems and growing gaps between the rich and the poor- the water shutoffs have been another blow to the people of Detroit.
However, many citizens have fought against the department's actions with mass protests and community groups delivering water in bottles and buckets to neighbours, families, elderly and those most in need. Many suggest a new water policy is in order with costs of water linked to household incomes. The UN Development Programme (UNDP) has previously advised that water costs should not exceed 3 percent of household income and in 2010, the UN General Assembly recognised the "Right to safe and clean drinking water and sanitation as a human right."
The situation in Detroit has wider implications for how we view water as either a human right or a commodity. Water scarcity is becoming an important global issue but even in those countries with access to water, there are those who cannot afford running water. Water is essential to life and therefore the shut offs are debilitating to those who already are in vulnerable circumstances.