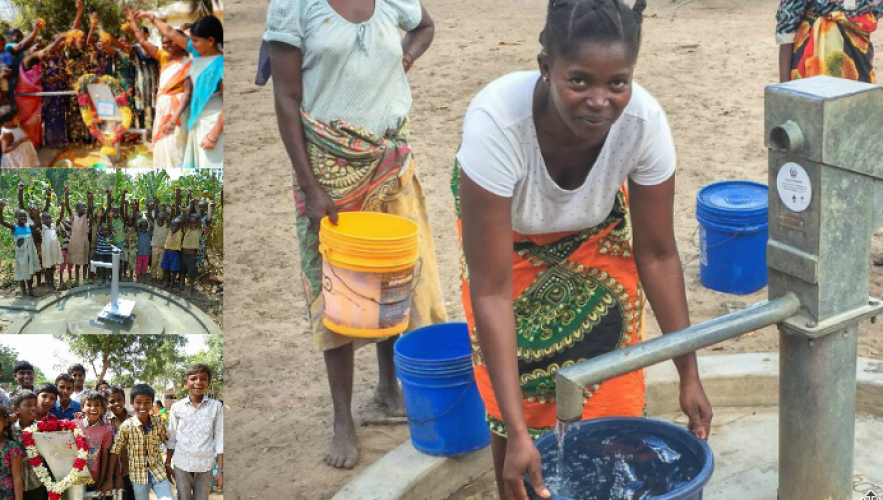 Compass Group celebrates 150 projects with drop4drop!
Here at drop4drop, we want to thank Compass Group for reaching the milestone of 150 clean water projects with us!
Congratulations Compass Group, for contributing to 150 communities throughout India and Africa gaining access to clean water.
Through partnership with drop4drop and Life Water, Compass Group have helped families across India, most notably villages in Andhra Pradesh and West Bengal; and in Africa: Uganda and Mozambique.
Compass Group have assisted communities of all sizes in gaining access to clean and safe drinking water through drop4drop: ranging from a village of 290 people in Nsambya, Mpigi Discrict, Uganda, to a community of 4,017 people, in Tororo Mozambique.
In 2017, Compass Group through the University of Bedfordshire and Chartwells' purchases of Life Water helped a community of 1,815 people in Lakkireddypalle Harijanawada gain access to clean and safe drinking water. Mrs. Pragathi, 32 years old, spoke to us about how access to clean water has changed her life:
"Now I am going to job in correct time. I have no problem of water scarcity in my house. Prior to installation of this well, I was going to neighbouring village by walking 2KM away. Really it is very difficult for us to get water in the hot summer. Now after installation of the new well at our village we feel very happy and most convenient saving time of 2 1/2 hours daily. During this saved time I am going household work, I am caring my children in better way, I am going to my job. Many thanks to the donor of this well and thanks to drop4drop".
If you want to find out more about drop4drop and Compass Group's projects, head to our website.