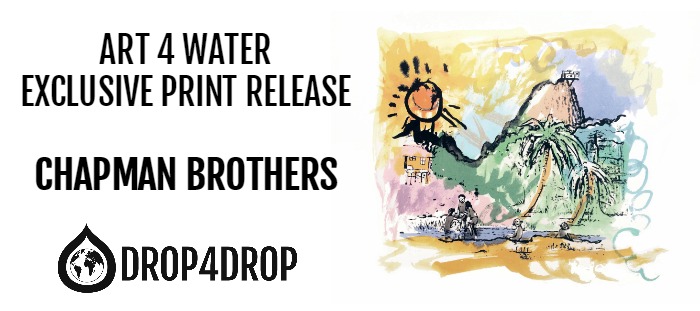 CHAPMAN BROTHERS X DROP4DROP
We are really excited to announce that Jake and Dinos Chapman, two of Britain's most successful and relevant contemporary artists, have produced a limited number of prints especially for drop4drop. The Chapman Brothers are well known for their often hard to forget images and powerful visions, considered the arch-provocateurs in contemporary British Art they make potent comments about the modern world. They graduated from the Royal College of Art in 1990, and first received critical acclaim in 1991 for their sculpture Disasters Of War, a reinterpretation of Goya's etchings. Their work was collected by Charles Saatchi and they became part of the YBA (Young British Artists) movement and in 2003, they were shortlisted for the Turner prize. The Chapman Brothers make iconoclastic sculpture, prints and installations that examine, with searing wit and energy, contemporary politics, religion and morality.
The Chapman Brothers here lend their hand to create a limited edition print in support of drop4drop's mission to bring clean water for all. The screen print is titled Visions of Morass I and is limited to 50 editions.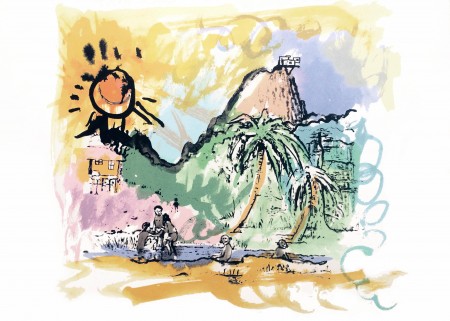 Above: Chapman Brothers / Visions of Morass I / Eighteen colour screen print on Somerset Satin 300 gsm paper / Edition of 50 / £2000 Framed (£1800 Unframed)
The purchase of one print will provide an entire community in the developing world with clean drinking water for life. Buying one print, you will fund one well and the priceless gift of clean drinking water for a community of at least 1000 people in the developing world.