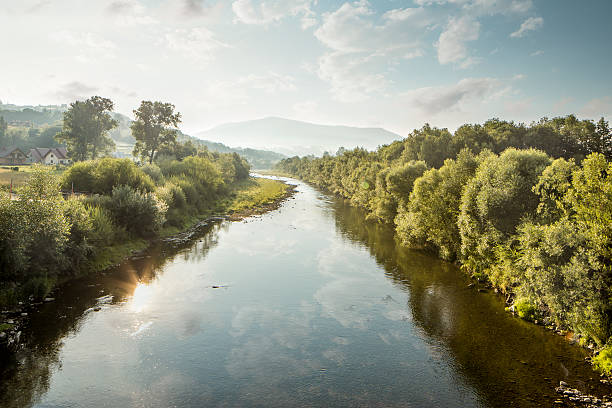 Transboundary Waters
There are approximately 263 watercourses around the globe that are being shared by more than 140 countries and cover half of the earth's land surface. Water represents almost half of the global population and is a catalyst for cooperation and sustainable development. Transboundary water resources support the livelihoods and needs of a huge number of people and therefore efficient management is essential, especially in areas where water is limited and climate change takes place frequently. However, cooperation is not always easy and water may sometimes provoke disputes between riparian countries (UNDP).
Cooperation is important in water-prone countries where consumption and pollution in upstream and downstream countries can create severe implications. For instance, waters flowing from upstream countries to downstream ones may carry pollution, impacting human health and increasing environmental problems. Activities carried out upstream, such as over-extraction or inefficient utilization of water may have dire consequences on the livelihoods and environmental needs downstream. Moreover, wetlands provide critical ecosystem services, such as food provision and flooding prevention, and the over-exploitation of waters can threaten these ecosystem services and have a negative impact on water sustainability and security. Even when positive actions take place, they may have adverse reactions. For instance, the building of a dam for climate adaptation may reduce the flow downstream and potentially lead to international tensions. (UN)
History, however, has shown that trans-boundary waters have set the foundations for cooperation while frequent incidents of water conflicts have not taken place. Since 1948, more than 300 international water agreements have been signed and only 36 water disputes have been reported. Cooperation between riparian nations has built mutual trust and has led to regional economic growth and security among states. Although this is a positive fact, more than half the worlds watersheds still lack a cooperative water management framework and sometimes the existence of international water agreements does not mean the absence of disputes.
It is therefore essential for states to implement regional, bi- and multilateral mechanisms for peaceful and effective mediation. (SIWI) Transboundary water management is essential for international trade, climate change adaptation, economic development, efficient governance and local integration. Integrated approaches to transboundary waters which are based on legal guidelines, equality and shared benefits are critical. A supranational cooperation between sectors heavily dependent on water, such as agriculture and industry, can improve food and energy production, reduce poverty and promote peace. (UN)