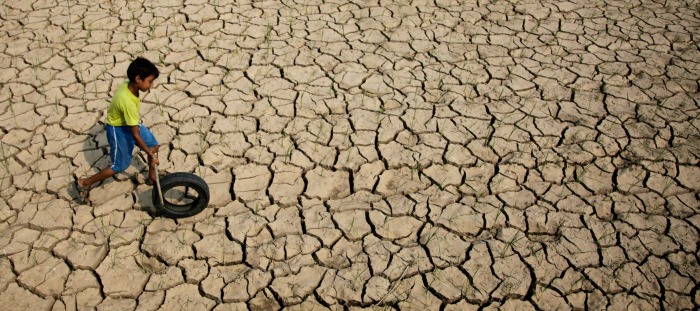 Drought in India is affecting over a quarter of its population
At least 330 million people in India continue to be directly affected by a drought where temperatures are in excess of 40°c. The drought has killed 300 people so far and the situation is critical. On the 20th April the Supreme Court was informed that 254 of 678 districts were under a spell of drought, a number that is likely to have increased in the month since this information was made public.
More than a quarter of India's 1.1 million population is said to be severely affected by the drought; drinking water is scarce and agriculture in distress. The effect of the drought is shown by the parched, cracked soils and the desperate migration of families from villages in more dire situations. Many families have abandoned their lives in villages to travel to Mumbai; in many villages schools have closed, drinking water is scarce and employment opportunities are minimal, as crops fail due to the drought. In large cities like Mumbai these migrants often have no money, employment of even a shared language. They are misplaced in every sense of the word, but have more access to water than in the villages. These drastic measures show how critical the situation in India has become.
Though water tankers are delivering to villages, and there are functioning public water sources in cities, gaining access to these water supplies is difficult and insufficient. The queues are hours long and authorities have imposed orders prohibiting large gatherings at water collection sites in an attempt to stop water riots.  Groundwater levels have fallen drastically and there are reports of villagers climbing down wells, attempting to find water.
However, despite the situation the majority of people are patient as they wait for water deliveries and queue for water. At the moment this waiting is a necessity: there is no other option. Also, this situation has banded communities together, as people help each-other during the drought. In Latur, a young farmer, who bought a bore well to irrigate his dry 10-acre farm and grow corn decided to supply water free to villagers for two hours every evening. "Crops can wait," said Vikas Manikrao Sul, 31, who is also a lawyer. "Providing water to affected families is more important. In times of scarcity, you should not think of profit."