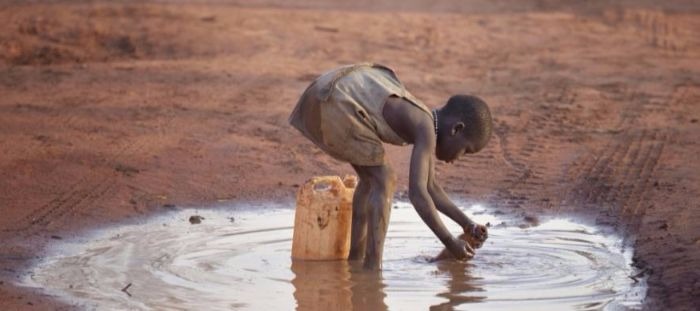 DROP4DROP in South Sudan
In February 2017, the United Nations declared a famine in South Sudan. After the end of a bloody 25 year civil war leading to an independent state in January 2011, the conflict re-opened in 2013 with deep rooted ethic and political tensions, leading to a humanitarian crisis that has left more than 100,000 people facing starvation and 4.8 million on the critical point of famine. Due to a long history of political instability, South Sudan's economy is one of the most undeveloped in the world with little existing infrastructure after independence. The young nation's economy and rural communities are widely reliant on agriculture. Without access to water and climate strains causing droughts and water scarcity, the lack of agriculture has ignited a dangerous humanitarian crisis.
Alongside agricultural and climate change strains, South Sudan now hosts over 200,000 refugees and 2.1 million (1 in 3 of the population) internally displaced people due to many factors; the War of Darfur, the conflict in the Democratic Republic of Congo, droughts in Ethiopia and endless contributing factors of environmental and security issues in East and wider Africa, forcing the displacement of people both internally and externally. With such a strain on the little infrastructure that already existed within South Sudan, the surge in population has put sanitation and health under massive strain, increased by the cholera outbreak.
Access to water is the most crucial element fixed to the humanitarian crisis facing South Sudan. Without water, agriculture cannot develop. Without water, lack of sanitation shall exasperate the deadly cholera outbreak.
In this context, Drop4Drop have worked with local teams in South Sudan to respond to and scale up a response to the cholera outbreak in New Fangak area. Fangak country communities are formed of internally displaced people (IDPs), host communities and returnees, fleeing conflict from states surrounding the area of the Upper Nile and Unity States, in Northern areas of South Sudan.
No part of Sudan has gone untouched by insecurity throughout East Africa. Within newly displaced and rural communities, there are very few functioning boreholes in order to access safe, clean water for drinking and sanitation. Instead, women and children (aged 3+) are collecting water from dirty water sources such as nearby swamp areas, pools/water points. Even those living near to water sources are resorting to swamp water due to long queues.
In these circumstances, cholera spreads fast – using untreated water for cooking, bathing, washing and drinking leads to dire consequences; since the month of March in Fangak area, cholera is believed to have taken more than 300 lives to date.
To tackle this, Drop4Drop's local partner, Africa Development Aid (ADA) have scaled up the current project dramatically:
– Rehabilitating three dysfunctional boreholes in Juaibor payam, Fangak County
– Forming three water management committees of 24 members
– Training three community-based pump mechanics
– Carrying out two jerrycan clean-up campaigns at three boreholes
– Carrying out sensitisation activities with the community on the importance of safe drinking water and safe hygiene practices in the three villages where the boreholes will be rehabilitated
Drop4Drop are committed to projects to relieve water pressure and the humanitarian crisis in South Sudan. In Fangak County, Drop4Drop and our partners are delivering real, lasting projects to save lives by preventing cholera and other water-borne diseases. Clean hands, clean water and fresh water are simple solutions with the greatest impact.